One thing that surprised me about our new home was just how much time I spend sitting at our kitchen island—and for all the time we spend there, I think we're in need of some luxury bar stools.
Entertaining has always been my thing—I love having people over and having a good time!
But I also sit there for a lunch break on my laptop, a casual dinner with Omied, or I'll prop myself up there while he cooks for me in the kitchen. 😉
With the summertime approaching, I've been thinking of vamping up the furniture around my house. Changing up the bar stools and maybe even buying some new pieces for the backyard is on the top of my list.
Finding luxury bar stools was quite the challenge. I'll show you my top eight picks to get you inspired!
With all these bar stools in mind, I'm already thinking of the drinks we'll make.
Shop Luxury Bar Stools Below:

8. Luxury Bar Stools For Your Dream Bar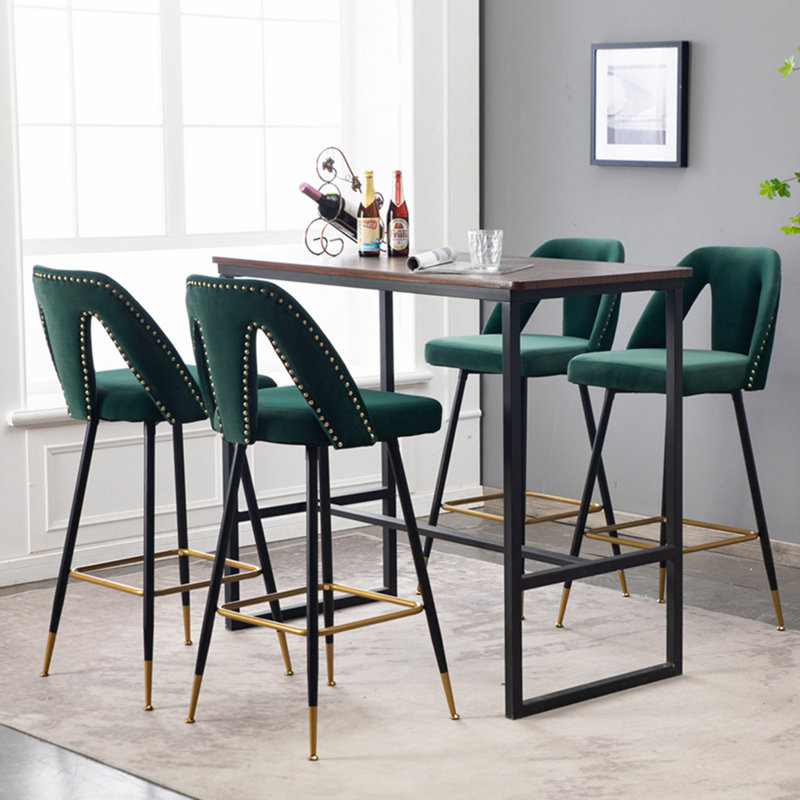 I stumbled upon this stool and immediately wanted it—I think it's the gorgeous color that got me.
The gold nailhead trim on the back makes the green pop and I'm living for it. These bar stools scream classy AF.
The website also has them set up as stools for a tall dining table and I actually think it looks so good. If these were the ones I get to buy, they're worth it.
They look great for a bar counter and also in the dining room—what more could we want?
I like the fact that they have a full back. I feel so awkward sometimes with the bar counter stools that don't have a back—I'm getting old and I need lumbar support lol.
From the barstools I've been eyeing, this one is definitely one of my favorites. I'm a sucker for any gold accents, and I'm loving it with the burnt orange—are you seeing how gorgeous this looks?
The shape this stool has makes me think that they're super comfortable. It's the same shape as the ones we currently have at our kitchen island and we love those. Since it's vegan leather, these are going to be super easy to care for!
One of the top reasons I'd want them is because they'd be low maintenance. Vegan leather tends to be super easy to clean with just a cloth (and maybe an occasional leather conditioning treatment), which makes it easier on me.
West Elm does it again with the chic AF products.
While shopping for luxury bar stools, I came across these that are modern AF. What I like about them is that they seem like a piece of furniture that you can either dress up or down based on the surroundings.
Versatility is key with furniture—these are it.
The sleekness of them was what got to me. Along with that, you're able to customize them to your liking on their website!
I look at these cushy stools and hear, "have a seat!"
On their site, you can see them use them in bars and even on a kitchen island—how gorgeous would that be?
I know I mentioned backless bar stools are awkward for me to sit on which is why I love these.
The bone color with gold looks absolutely stunning—are you seeing how supple this leather looks?
At first glance, they look like they wouldn't look good in my home. However—these actually seem versatile and I could easily make it work. The real challenge would be getting Omied to agree to them, since they're more feminine than most of our furniture.
These also look sooo comfortable and the leather looks luxurious AF, they need to be in my home ASAP.
You're probably looking at this stunning bar stool and thinking, "it looks like the previous one". Kind of—they're both so gorgeous.
You can't go wrong with a leather and gold combination, they just look too good. While they do look similar, I like how this one has a slight cut out in the back.
I'm gravitating towards these as well because they're super easy to clean which is a must! It's getting difficult to really narrow it down to the ones I absolutely want.
They'll pair fabulously with whatever bar situation you have going on! These even look like they'd look great paired with a tall dining table.
A modern aesthetic doesn't always have to be neutral colors or just black and white. I instantly fell in love with the color of this bar stool.
If blue isn't your vibe, they have a variety colors to choose from—they all look gorgeous.
The color blue is my favorite because it's such a statement color. It looks like it'd pair well with almost anything!
It's such an inviting color—I know my friends would love having drinks perched on these.
I absolutely love shopping at Pottery Barn—and of course, they have great luxury bar stools as well.
Just like the others, these look super chic and inviting. The height is perfect for the current bar situation I have going on at home.
Since I'm a fan of a barstool with a back, I'm biased towards liking this one. I love how sleek these look because of the clear seat!
I saved the most gorgeous for last—are you seeing this leather color? I literally fell in love with the color just by clicking the quick view option.
I like that this bar stool is totally customizable. My current bar aesthetic might not look like yours which is totally fine and why I love Williams Sonoma.
They come in a variety of colors and leathers—you're sure to find one you love.
I can already tell that these bar stools would look gorgeous in my home year-round, I might have to act quick!
---
Have my luxury bar stool picks inspired you? I hope you found my suggestions helpful and you end up falling for these stools just like I did!
If you decide to purchase any or have some nice bar stools yourself, tag me @wtfab on insta so I can take a look!
Looking for more home content? Get some inspo here.
West Elm Lamps: 8 Chic Pieces to Style in Your Home
10 Colorful Accent Chairs to Brighten Your Space in Style
Crate and Barrel Vases: Stylish Vases for Your Space
Pottery Barn Mirrors to Add to Your Shopping Wishlist
West Elm Rugs: Top 8 Most Stunning Picks
FAQs
Are wood or leather bar stools better?
Neither wood nor leather are necessarily better than the other, but wood is at times easier to clean. It's all up to one's preference!
Where can you find luxury bar stools?
Finding them in-store might be challenging, but my favorite websites as of now are Perigold and Bloomingdale's! Wayfair has some great options too.
Do luxury bar stools have to be only for a bar?
Nope! Some look great with elevated dining tables or even just kitchen counters.